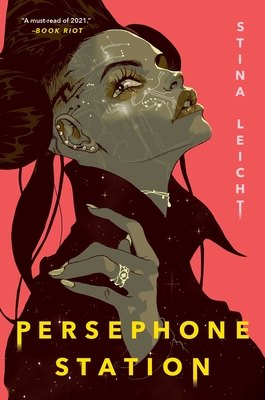 Persephone Station
Publication Date:
January 5th, 2021
Publisher:
Gallery / Saga Press
Description
Hugo award–nominated author Stina Leicht has created a take on space opera for fans of The Mandalorian and Cowboy Bebop in this high-stakes adventure.
Persephone Station, a seemingly backwater planet that has largely been ignored by the United Republic of Worlds becomes the focus for the Serrao-Orlov Corporation as the planet has a few secrets the corporation tenaciously wants to exploit.
Rosie—owner of Monk's Bar, in the corporate town of West Brynner, caters to wannabe criminals and rich Earther tourists, of a sort, at the front bar. However, exactly two types of people drank at Monk's back bar: members of a rather exclusive criminal class and those who sought to employ them.
Angel—ex-marine and head of a semi-organized band of beneficent criminals, wayward assassins, and washed up mercenaries with a penchant for doing the honorable thing is asked to perform a job for Rosie. What this job reveals will effect Persephone and put Angel and her squad up against an army. Despite the odds, they are rearing for a fight with the Serrao-Orlov Corporation. For Angel, she knows that once honor is lost, there is no regaining it. That doesn't mean she can't damned well try.
Praise for Persephone Station
"This is a military sci-fi up there with Joe Haldeman or Iain M Banks with excellent world building and a Le Guin/Anne Leckie scalpel for interrogating old tropes. The vibe is Casablanca meets The Magnificent Seven meets The Mandalorian and if that doesn't intrigue you you may want to check your pulse."—Adrian McKinty, New York Times bestselling author of The Chain
"This enjoyable and thrilling read features excellent worldbuilding and lively characterizations. The engaging crew and well-drawn plot will have readers hoping this will become a series."
— Library Journal
"In this earnest space opera, an ensemble of badass women and nonbinary and queer characters fight corporate overlords on the semilawless planet Persephone... [Rosie's] gender-fluid nonbinariness is just one part of a delightfully complex, genuine, and amoral character who could make this novel worth your time."
— Kirkus Reviews